Back to Menu
Create Your Own 4-Square Breakfast -- available all day, every day for only $8.29. Choose any 4 different items from over 30 options.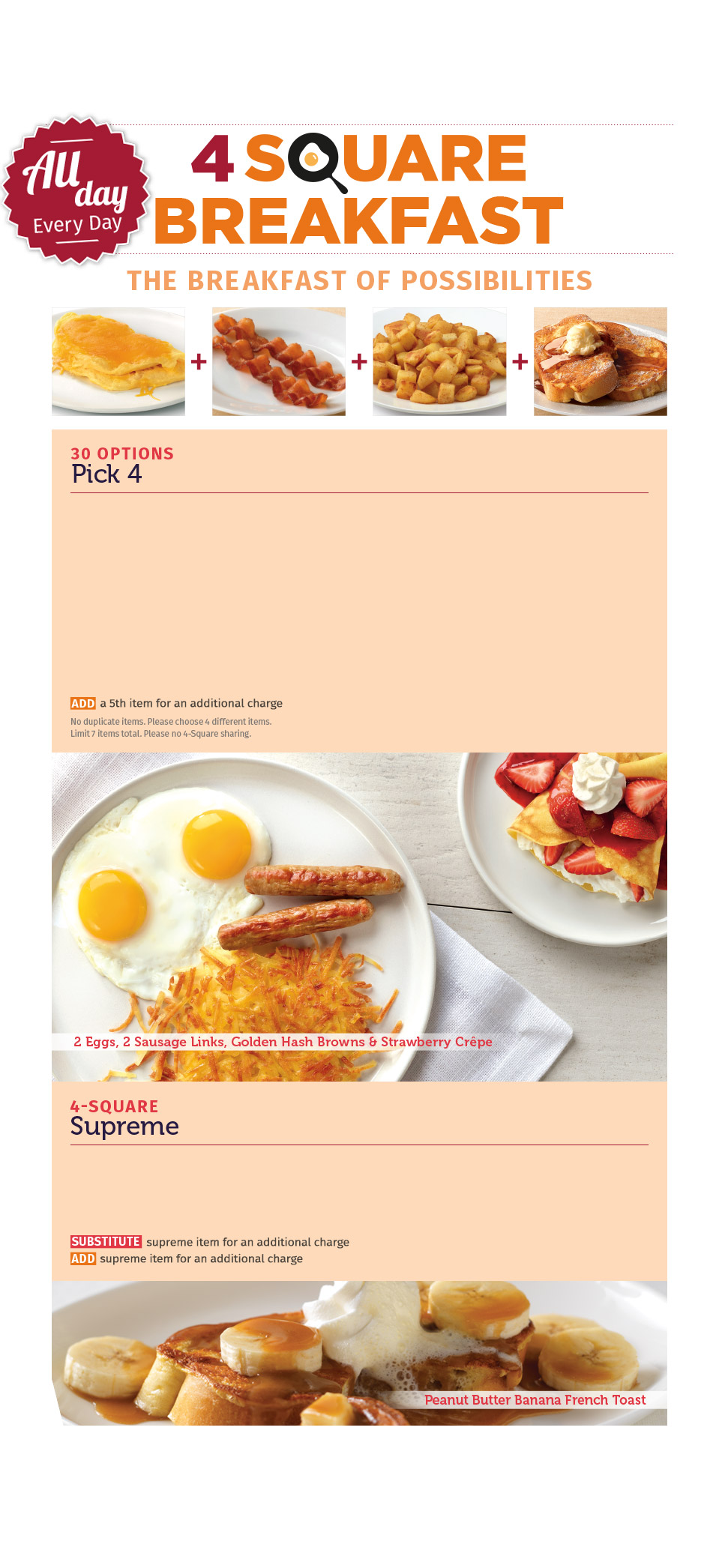 2 Eggs, Any Style*
2-Egg Cheese Omelette*
2-Egg White Omelette with Part-Skim Cheese*
2 Scrambled Egg Whites*
2-Egg Low-Cholesterol Substitute Omelette with Part-Skim Cheese
2 Cherrywood-Smoked Bacon Strips
2 Sausage Links
2 Turkey Sausage Links
1 House-Made Sausage Patty
1/4 lb Burger Patty*
Golden Hash Browns
Grilled Breakfast Potatoes
Oatmeal (with Milk, Brown Sugar & Raisins)
Granola
Low-Fat Vanilla Yogurt
Fresh Fruit
Cinnamon Apples
Apple Sauce
Sliced Tomatoes
Cottage Cheese
Toast
English Muffin
Biscuit with Gravy
Cornbread
Bakery Muffin
Cinnamon Roll
1/2 Waffle
Strawberry Crêpe
2 Buttermilk Pancakes
2 Chocolate Chip Pancakes
2 Pieces of French Toast
Peanut Butter Banana French Toast
Small Chicken-Fried Steak
1/2 Ham Steak
Yogurt with Fruit & Granola
1/2 Waffle Smothered
with Strawberry Sauce
2 Slices of Cinnamon
Roll French Toast
Caramel Pecan Roll
*Can be cooked to order. NOTICE: Consuming raw or undercooked meats, poultry, seafood, shellfish or eggs may increase your risk of foodborne illness.
No duplicate items. Please pick 4 different items. Limit 7 items. Please, no 4-Square sharing.